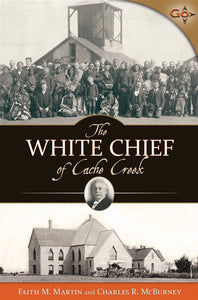 The White Chief of Cache Creek
begins in 1889 when William Work Carithers leaves his comfortable home in western Pennsylvania to become a missionary to the Indians of southwestern Oklahoma. He has two well-defined goals in mind: he wants to bring Christianity to the Indians, and at the same time he wants to help them gain skills necessary to survive in the white culture that is about to envelop them. He is racing against the clock, because the US government has decided to open Indian reservations to white settlement.

His hopes are fulfilled to a remarkable degree. He establishes Cache Creek Mission in the center of the Kiowa–Comanche–Apache Reservation. Important Comanche Chiefs are converted, and the church grows in influence. Carithers is able to win the confidence of the Indians and government agents in time to play a significant role in the allotment of choice land around the mission. But, as it turns out, he has only twelve years before white settlement comes crashing into the reservation; its effect upon the Indian way of life is devastating.

Twelve years was too brief a time to accomplish all that he had dreamed, and at the end of his life, when the once successful mission begins to falter, we listen as Carithers assesses just what has been accomplished.