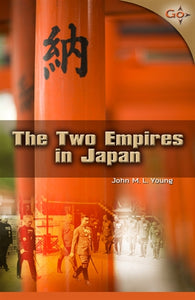 To what lengths are Gods people and His churches prepared to go in order to preserve themselves, avoid persecution, or pursue growth? John M.L. Young understood the dangers of compromise especially when churches would compromise the truth and authority of the Word of God. Mr. Young writes: "History has indeed shown that in the time of persecution the church that tries to save its life by compromise with pagan demands will lose its life, while the church that is willing to lose its life in martyrdom, if necessary, will find its life preserved by a host of new believers."
First published in 1961, the lessons contained within are of continuing and even growing value to Christs church. Pressures once again are being leveled against the church and this is not confined to Japan, but is evident in the East and the West.
"Young's work continues to serve as a wake-up call to Gods people to cling tenaciously to the Scriptures and aim at all times to glorify and enjoy God forever!
'Only be strong and very courageous, being careful to do according to all the Law that Moses my servant commanded you. Do not turn from it to the right hand or to the left, that you may have good success wherever you go. (Joshua 1:7, ESV)'"

Matt Filbert