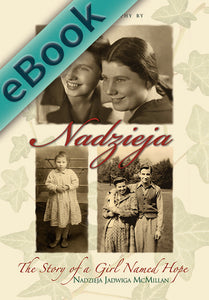 eBook edition. Please note that you will be able to download the item to your computer then transfer it to your device.

In her humble and candid manner, Nadzieja tells her story, a true story, of what it can look like to put your faith in the One, True, Living God. She was born in Russia but ended up in a Polish orphanage. Later, she crossed the ocean to America, while many of her friends stayed behind to eventually face the oppression of Hitler.

What happens in Nadzieja's life will amaze you and amuse you and sometimes grieve you. But Nadzieja means hopeand where her hope is placed is the most important part of this story.