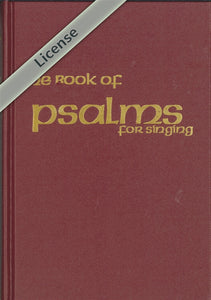 **This product is an annual license. You will be billed each year for this license. You may cancel at any time, but are required to delete all files associated with the license upon cancellation. Thank you!

This product license allows your congregation reproduction use of the entire Book of Psalms for Singing for one calendar year. The yearly fee is based on your congregation's size.

When purchased, you can immediately download a complete PDF version of The Book of Psalms for Singing, both the musical settings and a words-only version. The material may be used for the following:

* formal and informal worship times
* overhead/screen projections
* bulletin inserts
* Sabbath School
* VBS
* special events involving members (weddings, funerals, etc.)
* Bible studies

or any other common congregational events/activities not listed above.
You may not sell or transfer this license to anyone. You may not distribute or post digital or print copies of this publication or individual selections beyond the scope for which permission is granted.
You may not use any of the material in any publication, digital medium, audio recording, or for‐profit venture without permission from Crown & Covenant Publications.