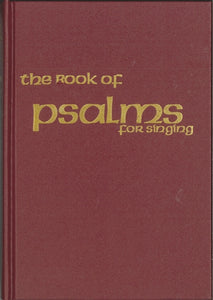 This is the 50th anniversary of The Book of Psalms for Singing—a beloved American psalter known for its comprehensiveness and singability. 
The psalter offers more than 425 selections, including all 150 Psalms in their entirety. Many psalm passages are set to multiple arrangements. Settings include many familiar hymn tunes, traditional tunes, some original arrangements and compositions, and a few chants.

This psalter translates JHWH into "LORD" or "Jehovah" and ELOHIM to "God." ADONAI is sometimes translated "Lord" and sometimes "Jehovah."
When it was printed in 1973, it was one of the first psalters to introduce more modern language into its metered translations. Translated from the original language into English meter for singing, the psalter includes 4-part music for each selection and 5 indices.

Some arrangements from The Book of Psalms for Singing are recorded on Sing a New Song, a downloadable album sung a cappella by a large choir.