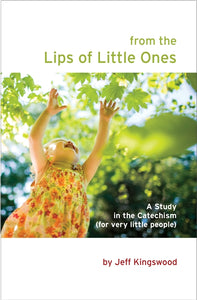 "Pastor Kingswoods use of Scripture to explain and apply Scripture is a model that will educate parents as well as their children. I wish I had possessed this excellent resource when my wife and I were raising our four children. (I have already recommended it to our children for them to use with their children.)" Ian Hamilton, Senior Minister of Cambridge Presbyterian Church, Author of The Faith Shaped Life

"Pastor Kingswood has written a wonderful book for parents and their children. Speaking with a fathers love and a pastors heart, Jeff has produced a very thoughtful study. This guide to the Shorter Catechism will doubtless prove to be a blessing both to parents and their children, and as Jeff pointed out in his introduction, 'to their childrens' children.' Speaking in clear and simple language, Jeffs book makes this important teaching tool come alive (as he so beautifully puts it) 'for very little people.' Buy it. Read it. Use it." Rich Ganz, Author of Free Indeed and 20 Controversies that Almost Killed the Church

Begin today to pass along to your youngest loved ones the key truths of Scripture. Jeff Kingswood's 73-week plan, based on the Children's Catechism of 1840, is simple and thoughtful. You will open doors to important discussion with your children and lay a foundation for knowing God and themselves. Freshly reprinted, this book offers bite-sized lessons for today's child.