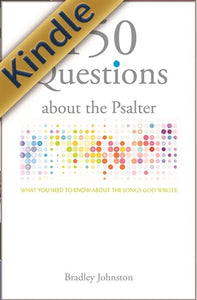 Kindle edition. Please note that you will be able to download the item to your computer then transfer it to your device.

Who wrote the psalms, and why? Can we find Jesus in the Psalter? How do these ancient songs matter today?

In the style of a catechism, this book draws you into the majestic, meditative depths of the inspired songs of God. Divided into seven short sections, 150 questions and answers address the content and arrangement of the Psalter, Psalm genres and groupings, the historical context of the author, the Psalms relationship to the rest of Scripture and the life of Christ, and their use in private and public worship.

With appendicies that feature worksheets and charts, quotations from theologians and church fathers, this resource helps individuals, families, and churches understand and embrace the psalter for themselves.