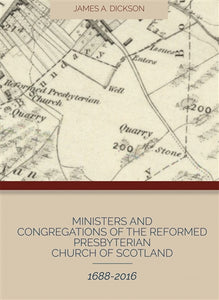 In this volume, James Dickson traces the history of the Ministers and Congregations from 1680 to the present day. A short biography of the Ministers who served the church and a brief history of each congregation are given.
A useful reference work, enhanced by a bibliography of the printed works of Reformed Presbyterian ministers, two additional appendices, an historical introduction and illustrations throughout.
A welcome addition to the library of those interested in Scottish Church history, being the only work to bring the history of the Reformed Presbyterian church, and her Ministers, up to the present day.
Contents include:
Preface
Introduction
Congregations
Ministers
Bibliography
Appendix 1: Protestation
Appendix 2: The Breach
Appendix 3: Bibliography of the writings of the Ministers of the Reformed Presbyterian Church of Scotland