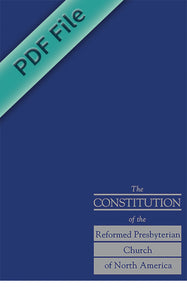 Comprehensive reference tool, 2021 update. Westminster Confession, Shorter and Larger Catechisms, RP Testimony (in parallel columns with the Confession), directories for church government and worship, vows and forms of the church, and a history of standards and covenants.
Once you checkout, you can download a digital PDF version of the Constitution.
When checking out, please consider adding a donation to help offset the costs of providing this resource. Thank you!